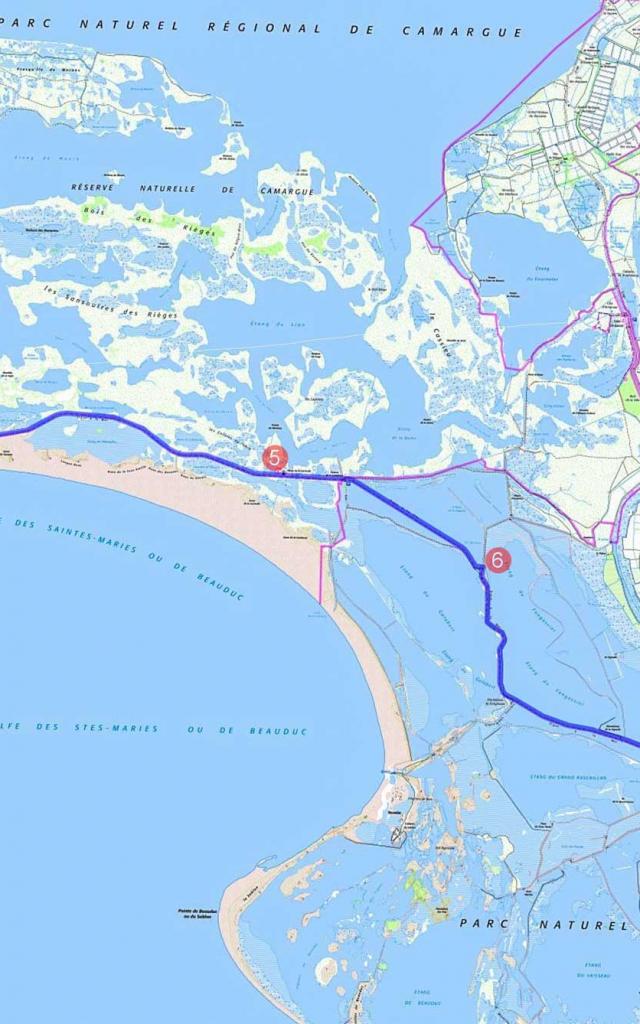 From the car park near the D 570 for the Stade, after having crossed the little canal, follow it right, cross straight over the D 85A, (CAM 16A and B signposts), go through the barrier and the studs, keeping the canal to your right.
At the pumping station gate, veer left towards the bridge, (CAM 17 signpost). Continue in the same direction on the dirt track, keeping the Les Impériaux tailings pond on your left.
When you reach the low dike coming from the left, go past the information board, a barrier and follow the dike to the Rousty bridge which marks the entrance to the National reserve.
Go straight over the Rousty bridge. Continue along the dike to the sea and La Gacholle lighthouse, (CAM 18 signpost).
Go straight on after the bridge and the car park. The trail veers to the right.
After this car park, the Poste de Vannage and the pumping station bridge, turn right (CAM 19 signpost). At the next crossroads, keep straight on.
At the next crossroads, go left and stay on the left to get to La Tourvieille. Keep straight on, with Chemin C 140 on your left, (CAM 20 signpost), and go to Faraman. At the first houses, the road veers left and then right towards the plane trees and then straight on.
When you get to the salt marshes, turn left. Go past the Ecomusée du Sel. At the garages, stay left and then continue straight on. When you reach Salin de Giraud, after Place Adrien Badin and Hôtel La Camargue, the boulevard veers left and then right to join up with Rue d'Arles. At the roundabout, take the first exit towards the plane trees, past La Poste, the Groupe Scolaire and the Mairie.