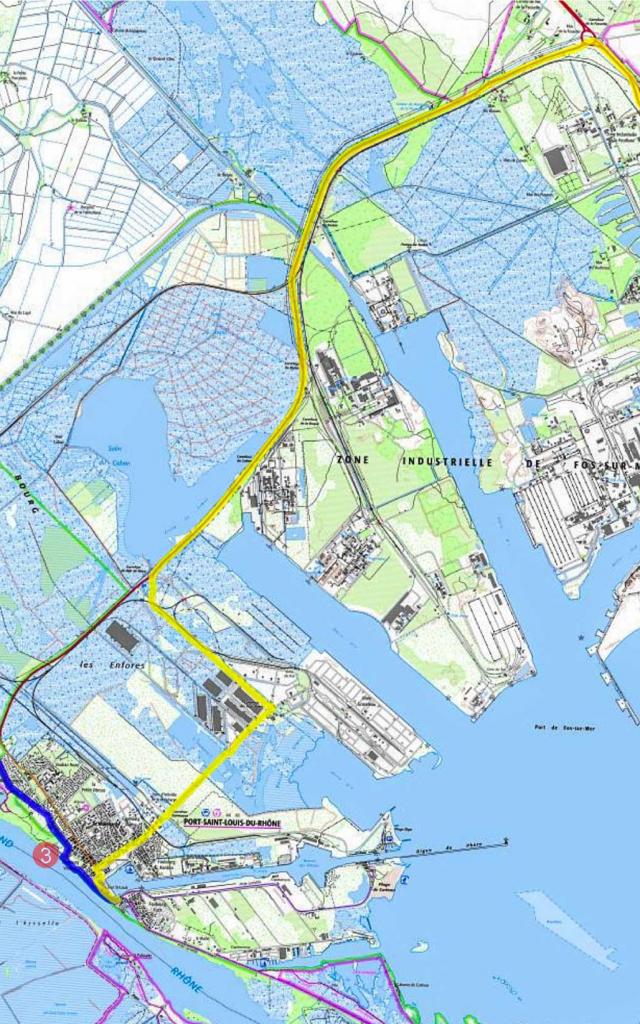 Salin de Giraud (Mairie) to Port Saint-Louis du Rhône (Douane bus stop)
8.5 km – 2 h – Yellow marking
Go past the CAM 21 signpost and at the end of Boulevard de la Gare, take D 36 to the right and then left to Bac de Barcarin (ferry).
When you leave the ferry, at the CAM 22 signpost, take the trail on the right that follows the River Rhône before leaving it when you get to the first houses of Port Saint-Louis du Rhône. Follow the trail alongside the houses until you get to the port.
When you get to the boat slip, continue to your left between the park and the river, go straight on for La Tour Saint-Louis and the Tourist office. Go past the CAM 23 signpost and follow the Rhône, then go left between the pine trees to reach the "Douane" bus stop. Take ligne 1 – Miramas – Istres – Fos sur Mer – Port Saint Louis du Rhône or ligne 2 Martigues – Port de Bouc – Fos sur Mer on the Ulysse transport network. Get off at the "Vallins" stop in Fos sur Mer.
Fos sur Mer (Vallins bus stop) to Fos sur Mer (Salt marshes)
3 km – 45 min – No marking
Take Avenue des Vallins and turn right at the roundabout into Allée des Pins. Walk along it on the left side to go round the Maison pour Tous, along the Résidence la Saladelle and walk around L'étang de l'Estomac keeping to the right of the covered tennis courts.
Follow the edge of the pond and veer left before you get to the power line and the amusement park car park.